How To Get Your Kids to Eat More Greens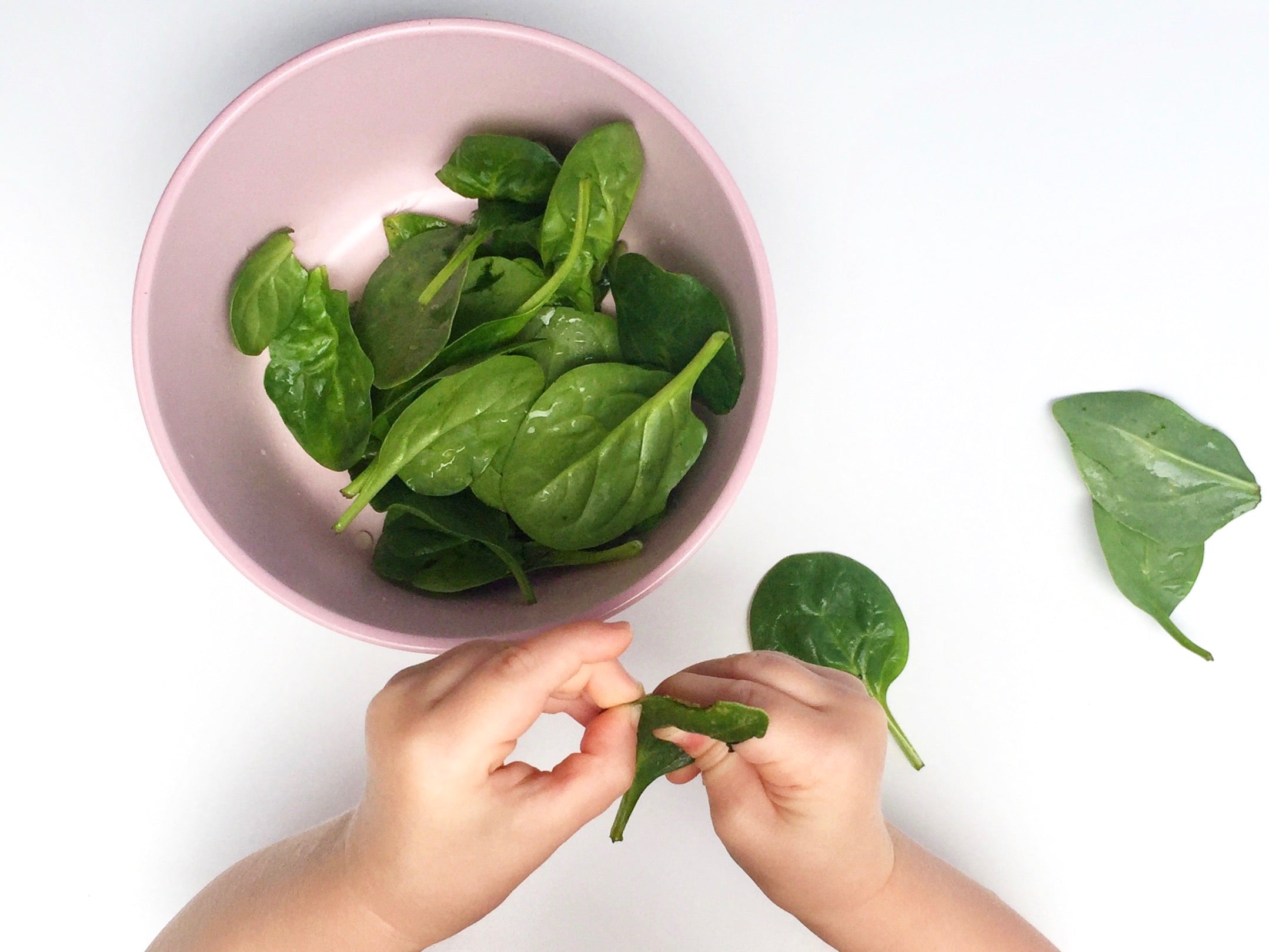 It would be interesting to see how many kids actually eat greens. Is there a statistic out there? Getting kids to eat greens can be a negotiation process for even the best of negotiators. Bribing with treats, events, or gifts can become a very slippery slope; next thing you know you are heading to the zoo and have a pony in your backyard! Even when you try to hide their greens, kid 'veggie' radars go off and they can somehow find them with their little fingers and pick out every last bit. 
5 ways to successfully sneak greens into your kid's diets
Smoothies
This may be the easiest one. Adding spinach and kale, with banana and mango and milk of choice is a great way to add greens without kids tasting them. If you want to add green superfoods like spirulina or barley grass, I recommend June Superfoods Green Greatness blend. As long as there is a bit of fruit in there most kids will like it. Unless of course, your kids don't like seeing green at all. The way to trick them is to add an organic cacao or cocoa, as the chocolate colour will combine with the green and make murky brown (yum), which can quickly be named a chocolate smoothie, or a banana chocolate smoothie. Give it a try and see how you go.
Soups
Having a pureed pumpkin soup with coconut cream and cooked greens (zucchini, spinach, broccoli) is a great way to get more greens into the whole family. The orange pumpkin colour will mask the green and hopefully keep your kids from knowing greens are anywhere in sight. Plus it will taste great if they already like pumpkin soup.
Sauce
Pasta sauce is similar to a soup. A good pasta sauce is a great way to get green healthy herbs like parsley, basil, oregano, and pureed green veggies like spinach, zucchini and broccoli into a nice sauce to add to kids favourite pasta. Once again adding greens to a red tomato-based sauce hides the green colour and the tomatoes usually mask any flavour of green.
Dips/spreads
If you enjoy making dips this is a great way to get raw veggies into kids diets. Adding these spreads to biscuits, toast or wraps adds flavour and nutrients and is fantastic. Plus they go great with additional veggies; carrots, celery, zucchini. Spinach doesn't have much flavour compared to kale, so I recommend adding raw spinach. Kale and broccoli are best cooked slightly to reduce the bitter flavour.
Egg Pancakes

Sometimes referred to as just pancakes in our household. I blend cooked zucchini, peas, and spinach with three eggs, a tablespoon of organic flax meal and 1/2 mashed banana then cook mini pancakes. My kids love them and don't seem to have any idea they are full of greens. Yes, they are slightly green, but the added sweet banana and coconut oil I cook them in seems to keep them happy.


Overall It is really important for kids to eat greens throughout their lives. The main goal is we want them to choose healthy when unsupervised. Regardless if I win the battle or not, I try to include something green on my kid's plate with most meals. They may fight them now, but as parents, if we continue to introduce them to greens we are winning. By making greens a normal occurrence and foregoing the fight, we can 'reverse psychology' them into eventually making a habit out of having greens as part of their daily diet. In the meantime, we can continue to slip them in smoothies and wait for their pallet to change and their stubbornness to subside.

Either way, parents need to band together. What are your favourite ways to get your kids to eat more greens?
---
Leave a comment
Comments will be approved before showing up.