Nomination for Best New Certified Organic Product of the Year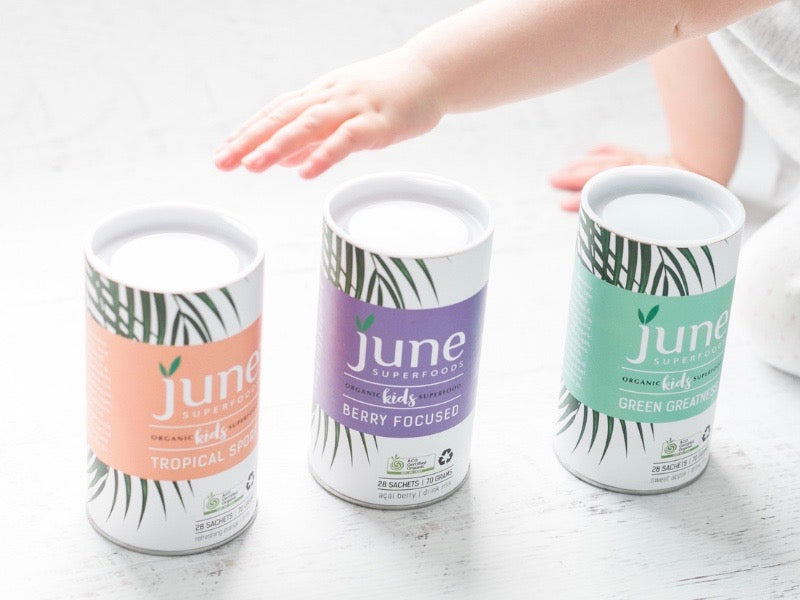 June Superfoods has been nominated for 'BEST NEW CERTIFIED ORGANIC PRODUCT OF THE YEAR.'
"CONGRATULATIONS! You have been nominated as Best New Certified Organic Product for the Australian Organic 5th Annual Awards this year. It's now your time to enter to be in the running to win! Please find attached the Entry Pack 2018 which includes key dates, instructions, and all necessary details you need to enter for an award." - ACO
June believes in everything transparent; labelling, ingredients, suppliers, etc; this is why we are completely transparent with our entry pack for the June Superfoods nomination. Once nominated we were asked to fill out an extensive entry pack with a variety of questions that every entrant answers. 
Winner will be Announced Tuesday, November 27th, 2018 at the awards event in Canberra Australia. 
Enjoy these candid answers to important questions that we believe makes June Superfoods the best new product of the year! 
INTRODUCTION:

 

JUNE SUPERFOODS PTY LTD
June Superfoods are Certified Organic Superfoods for Kids. We are located just south of the Gold Coast. We offer a range of 3 superfood blends for kids (Berry Focused, Green Greatness, and Tropical Sport) all supporting healthy growth and development. We use the highest quality absorbable ingredients with no added sugars, fillers, GMO ingredients, or anything artificial. Completely vegan, gluten-free and made in Australia. We launched June Superfoods in July 2017 when we started selling online. Currently, we have national distribution pre-sales in Australia, exporting to Asia, interest in the US and have exposure in the Daigou market here in Australia. We have been busy this year with a new business a new baby and a toddler! We love the process! 
EDUCATION FOCUS
What activities have you undertaken in the previous year that will educate consumers on an organic lifestyle and the difference between certified organic products and non-certified organic products?
Daigou event for AU Make, educating the Chinese consumer and Daigou market on the difference between organics (certified) and conventional produce, supplements, and kids vitamins.

Educating June Superfoods audience on social platforms, Blog, and Newsletters on the importance of organics for families.

Guest blogging for multiple platforms.

Organic Editorials for

Sprout Magazine

,

GoodnessMebox

Featured in the organic

GMB

in September 2018.
2) Provide at least one example.
In March our June Superfood was featured with AU Make Daigou Hub in Sydney China Town. In May we were invited to a launch party for June with 30 Daigous streaming live to Mainland China. With a translator the founder Kristin Derrin,

 

educated the Chinese consumer and Daigou on the importance of organics especially for kids, we reached over 200,000 people (mainly parents). Kristin explained data from the Organic Trade Association and correlations to pesticide exposure from conventional crops on child cognitive development. Kristin explained how organics have more nutrient-rich soil resulting in more natural vitamins and minerals in the produce. Also, they don't need to worry about toxic chemicals with the high regulations of ACO in particular in creating products in Australia. China doesn't have much education on organics, and there was a lot of questions and interest. Kristin continues to educate the Chinese consumers about the importance of organics through select large WeChat groups with AU Make as well as Boundless Organics platform.
CUSTOMER CENTRIC
3) Outline the practices that your business adopts that maximize customer service and builds strong customer loyalty.
Customers are first for June Superfoods, and we strive to engage, empower and educate our customers and audience regularly on the benefits of whole food nutrients for kids that are certified organic and free of artificial ingredients, fillers, sugars, etc.
4) Provide at least two examples (i.e. clear labelling practices, education forums etc.)
Transparent labelling. We are upfront with all of our ingredients, their source and why we chose them for kids.

Stories, engaging customers to post about the product in stories and emails.

Sending emails weekly on latest blogs on kids health, research and news in the health/organic sector: See an example of the email newsletter attached.

Kristin active in WeChat group alongside Theresa Kerr on Boundless Organics platform educating Chinese consumer on the importance of organics.
ARE YOU ACTIVE IN THE ORGANIC INDUSTRY?
5) Demonstrate your commitment to the organic industry and the actions you have taken to be a member of this community. Provide examples of your participation in the organic industry.
June Superfoods is located on the Gold Coast and promotes our local farmers on our social networks and video stories. We frequently visit and mention Freeman's Organics, Currumbin Harvest, and Farm and Co. June Superfoods are currently working on sponsoring an educational organic  event for kids with Farm and Co in Kingscliff/Cudgen for summer.
6) Do you participate in the Australian Organic Awareness Month (AOAM) national campaign? If so, how do you participate?
Yes, we are currently running #organicfacts each day on our stories; educating our audience on the importance of organics for their families and our environment and future.

We also are posting about other ACO Certified Companies that we feel are doing great for organics and the environment.

We ran a competition/giveaway in celebration of organics month with Goodness Me Box.

We have also been featuring organic blogs/news and events on our newsletter and our website. 

We Donated product and currently Featured in the GoodnessMe Box www.goodnessmebox.com for their September organic awareness specialty box.
YOUR REPUTATION
7) How does your product or business enhance the reputation of the organic industry and specifically Australian Organic?
June Superfoods mission is to empower parents to help their kids get healthy. To make healthy choices which involve choosing organics to assure they kids avoid toxic chemicals/pesticides.

June Superfoods is the only Certified Organic Kids Superfood line in Australia. We source Australian ingredients where we can and use reputable suppliers and manufacturers in Australia.

We educate on the importance of organics regularly and how crucial it is to have regulated products for kids, especially ACO certified as we sincerely believe this is the best certifying board.

There are other companies creating supplements/superfoods that are not certified organic. We can only imagine how much pesticide residue and GMO ingredients people are adding to their diets unintentionally.
Having Organic Certification differentiates us in a saturated supplement/health food market.
8) Can you provide at least one example of changing the mindset of a consumer, colleague or community member towards organic products directly as a result of your business or product?
WEChat, June Superfoods founder, Kristin Derrin is currently working with an Australian Distributor (Boundless Organics) who sells to her network in China. Vivian has invited Kristin to educate her audience and clients on the importance of organics in nutrition; specifically superfoods, vitamins, baby formula and skin care products. Vivian also has Theresa Kerr on her platform, another woman passionate about organics we plan to collaborate with. On the WeChat group, Kristin explains the importance of avoiding synthetic and artificial ingredients in kids gummy vitamins (a popular nutritional choice in Asia) and instead to get their nutrients from an organic whole food diet. Unfortunately, not everyone has access to good organic produce in China so Kristin is educating them on superfoods as a supplement to boost nutrients. Also explaining why organics are essential to avoid pesticide exposure linked to childhood learning disorders, according to The Organic Trade Association.
9) If you were to be recognised on the National Stage do you believe there would be any need for concern of negative publicity towards your product and service? If so, describe the likely publicity and whether overall it still leads to changing the way Australians think about organics (note: we accept that not all negative publicity is bad however we would like to know about it in case you are the Award recipient).
We do not believe there is any reason for negative publicity for our certified organic kid's superfoods. We value honesty, transparency, and the highest quality ingredients.
SUPPLIER RELATIONSHIPS
10) What is your philosophy towards supplier relationships?
Stay connected with an open line of communication about sourced ingredients, where ingredients originate and the nutritional quality of the ingredient. We use Australian suppliers when possible; many superfoods, however, come from South America.
11) Do you believe you encourage supportive, trusting supplier relationships? If so, outline how you do so.
We enjoy staying connected with all of our suppliers. It is essential for us to source only the highest quality ingredients for kids. For this reason, we like to keep an open dialogue with both our suppliers and manufacturers on the origin and handling of all ingredients. We always say hello at tradeshows and send out Christmas Cards. We look at everyone as part of our team, from the local delivery driver to our accountant :)
12) If we were to question your supplier network, do you believe that we would only receive positive feedback about your relationship with them? If not, please outline any reasons why you would not obtain positive feedback.
SUSTAINABILITY 
13) How do approach environmental factors within your business? Provide examples of how you adopt environmentally friendly practices. Do you encourage others to do the same?
We use recyclable packaging and limit extra packing materials when shipping orders.

We are also a member of

1% for the Planet

and give back 1% of all proceeds to

Environmental Working Group

(product research),

WholeKids Foundation

(healthy kids nutrition) and

Charity Water

(clean water for those in need). The three pillars of helping kids get healthy worldwide.

We use sachets in our packaging to encourage the customer to use our product in a reusable drink bottle instead of buying a plastic drink bottle while out.

We will soon be offering stainless steel water bottles and reusable coffee cups as bundle items on our website. Our June Eco Line coming soon.
PROMOTION
14) Have you developed or implemented a marketing strategy/ies, process/es or program/s that promotes an organic lifestyle? If so, outline each campaign and the results (if known).
15) Do you engage in traditional (TV, Print, Radio) or non-traditional (social media, blogs, viral campaigns etc.) media to promote your product or business? If so, describe your activities in these areas.
June has been featured in a print publication: Mindfood, Women's Health, Nature & Health, Child Magazine, OH Magazine.

We use our social media channels to reach more people. We are active on Instagram, Facebook and Twitter promoting our products and values in transparent labelling and organic nutrition. Kristin has a Twitter/Linked In platform spreading and sharing information on the importance of organics and ingredients to avoid for a healthy gut and mind.

We also guest blog, Kristin has been on two podcasts speaking about kids nutrition, labelling and organics.

Kristin Derrin is currently growing her platform as a nutritionist educating on restorative nutrition for kids and adults. She is rolling out a new interview campaign, interviewing on Instagram Live Naturopaths, other Organic business owners, Environmental brands, and experts in the field of health and nutrition.

WeChat: Educating on kids nutrition and the benefits of June Superfoods.

We were featured on SBS World News at the Daigou Event in March.
With a goal of empowering parents worldwide, we feel a digital platform benefits our customers and our message can reach further than traditional print media. Plus it's better for the environment ;)
PRODUCT QUALITY
16) Describe your product offering. What are the key features? What makes your product offering unique? How do you quality control your product offering?
Certified organic kids superfoods with No fillers, sugars, artificial ingredients.

Individually packaged for nutrition on the go, add to a reusable water bottle to save on plastic.

Manufactured with an ACO and HACCP certified manufacturer.

Quality control from a tight and regulated supply chain.

Hand Picked and researched every ingredient from our trusted suppliers.
17) What variety exists in your range?
Berry Focused: Acai Berry Superfood Blend
Tropical Sport: Coconut water and tropical superfood blend
Green Greatness: Green vegetable superfood blend

Reusable Eco line (stainless steel water and coffee/smoothie cups)

Additional product lines for Winter 2019
18) Do you track your customer satisfaction rating for your product, or collect any review data from social media or other platforms? If so, discuss the results of these feedback channels.
Considering a significant portion of our sales are online, we send out automated website reviews to our customers. They receive two reminders so we can gather data and hear what our customers like and dislike.

We are also included in boxes like Goodness Me Box where they gather reviews and feedback on our product.

We also encourage all our newsletter subscribers to leave google reviews.

Most of our feedback is very positive. Parents love the high-quality product and their kids like the flavour. Some ask for ways to implement / recipes, and if someone doesn't like it, we always give them his or her money back. For us, feedback is golden as we grow into the market and start building our brand and new products. Most people like what we are doing at June; creating honest healthy nutrition options for kids that parents can trust.

Parents comment that they like that we have no added sugar, are certified organic, convenient, and have ingredients they can pronounce :)
INNOVATION
19) Have you produced an innovative product that delivers benefit to the organic industry, businesses or consumers? If so, describe.
Our product is innovative in packaging. The sachet can be taken on the go and added to a reusable water bottle while parents are out. It gives their kids a healthy drink option instead of a soda or sugary inorganic juice. 

June Superfoods benefits the organic industry is that it is the only certified organic superfoods for kids. Other superfoods may have nutrients, but they would also have a lot of toxic pesticides and chemicals blended in, not to mention the lack of regulation.

At June we explain this to our audience and consumers, always supporting organic 100%!

June is extremely versatile and can be used in smoothies, yoghurts, oats, spreads, milk, warm teas (milk teas and water teas), raw treats, baked in muffins, etc.
20) Do you actively seek and implement continuous improvement in your product or business?
As mentioned we are always seeking feedback, not just from customers but Naturopaths, Doctors, Dietitians, Nutritionists and Mums across the world (US, Asia, Australia, NZ, Europe).

We are already reformulating for our next batch and sourcing a few new ingredients that we feel will improve our product.

We are also starting to create a winter line of superfoods for kids all organic of course

We are adding June Eco to our line, eco reusables to reduce plastics and support the environment.
21) How do you seek feedback on your product or business? If so, what mechanisms do you use to assess the feedback and implement improvements?
Reviews: Online (website), Amazon, Google

Taste testing with kids

Daigou educational events with tastings

We continue to create recipes around the superfoods to help parents implement nutrition for those picky eaters.

GoodnessMe Box: send our sachets in their boxes, GMB gathers feedback and reviews from customers.
We send our products as samples to different naturopaths/nutritionists/doctors/mums around Australia as well as the US and Asia. We want people to try our product and get it into as many hands as possible to get feedback to continually create a better product.
GROWTH
22) Demonstrate how your business is growing, or if you have a boutique product range that is not adopting a growth strategy, how are you collaborating with other like-minded businesses to grow the organic industry?
We started with three main products: Organic Kids superfoods range of Berry Focused, Green Greatness & Tropical Sport.

We are about to release a starter pack with the three flavours in a smaller container for parents to 'start' their kids at a lower price point.

We plan to create a winter line: Healthy certified organic hot cocoa and an immune supporting vitamin C drink winter 2019.

June Eco line of reusables (coffee cup/smoothie cups/water bottles) adding to the range/website.

We collaborate with other ACO brands in giveaways, Instagram live video interviews,

 

bundles, and support other business owners with connections, export advice and encouragement. The organic community is very supportive.

We are on a mission to change the world; we want to get this product out to as many people as possible and create June as the trusted 'Go To' kids brand around the world.
23) What growth are you experiencing in the International market? Provide specifics.
Singapore distributor is regularly ordering. They are also creating exposure in Indonesia and actively marketing in the Singapore market.

Listed on Kaola and TMall (China's largest online retailer) with AU Make.

Sold and marketed within the Daigou Market in Australia to China.

We are currently working with an agent actively seeking International buyers for June to stock us in grocery, health wellness stores across Asia.

We are now working with a 2 X Korean Olympian as our Brand Ambassador for South Korea.

A potential buyer in India selling as a naturopath to clients Nationwide. 

US: Currently speaking with Brand Licensing Company www.thebrandliason.com who is interested in growing June into the US market.
COMMITMENT TO THE ORGANIC INDUSTRY
24) How do you demonstrate your commitment to the organic industry? Provide examples of how you embody and embrace the organic way of life and embed that into the Australian everyday way of life to encourage others to do the same.
Kristin started June Superfoods with the health of our future in mind. As a family and as a business we buy organic and local. We support other organic brands and only use the safest organic products on our babies and ourselves. Eating healthy and living a healthy life involves reducing toxins from our environments. The June Superfoods family not only supports this in the business but on an individual level as well. We lead by example and love educating our families and friends around the world. Continuously writing, speaking and teaching about the importance of organics. We are thankful for ACO, organic farmers, suppliers and organic brands around the globe making organics not only accessible but keeping the integrity and sustainability of our environment alive.
---
Leave a comment
Comments will be approved before showing up.