How to Embrace Toy Minimalism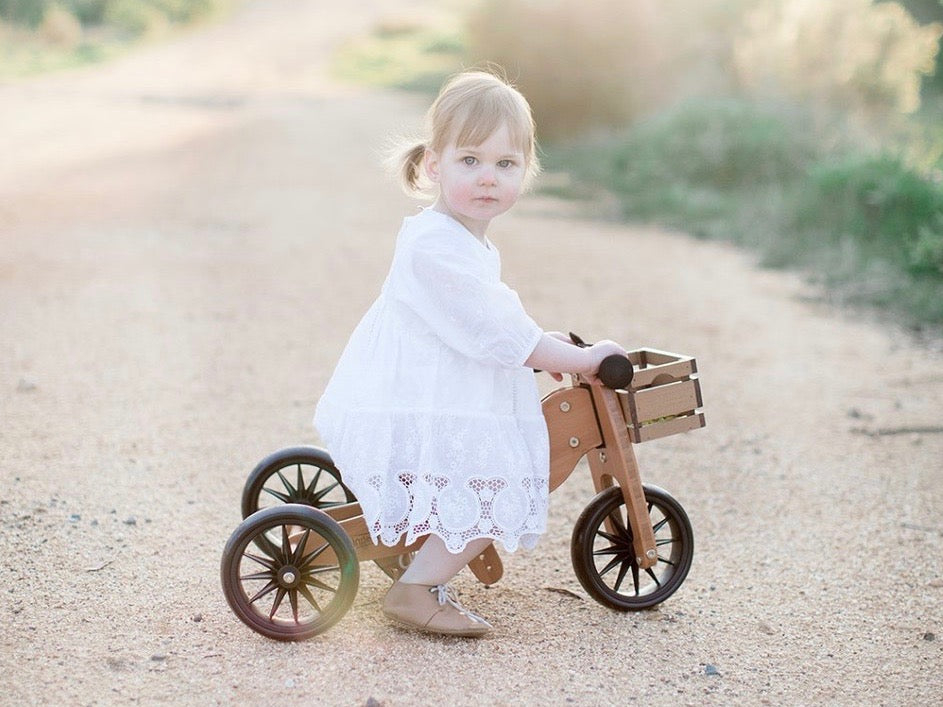 Guest Blog by Victoria Dunham
When my husband and I became parents we immediately agreed on one thing, we didn't want mountains of toys in the house. We didn't want to surrender our adult spaces to a hoarding mess of plastic toys. Selfish, yes. Unreasonable, NO!
We get gifted a lot of toys and our kids love all of them, but toy volume can get out of control pretty quickly and we have to draw the line somewhere. Rest assured, we don't break any hearts here, because what we have realized is that our kids don't really play with toys for long before they lose interest. 
Our world is changing, we are becoming far more conscious of the environment, and nowadays when we see those big bright plastic toys with their flashing lights, I can't help but worry about where they will eventually end up. So we always pass them on rather than throw them out. 
As we start to delve further into minimalism, we are realizing the incredibly positive effects this has on our lives. Our stress levels are lower, we are less overwhelmed, and it is allowing us more time to spend on the things that matter. Not to mention all the time saved cleaning, arranging and tidying our "things".
 "If you are anything like me, clutter feels overwhelming, removing the clutter of an overcrowded playroom or bedroom lowers our stress levels and gives us mental clarity."  
Today I'm going to share some tips on how to we 'Identify the essential and eliminate the rest'. 
Love the simplicity
My babes literally think brushing their teeth is the most epic thing ever. Simple things like putting their shoes on by themselves, building a sandcastle, helping with the cooking, washing, cleaning, running around outside, building a snowman or collecting leaves. These things light my kids up. We keep it simple, our kids don't always need toys, our kids need us.
Organization is key
Not having piles of toys means it's quite easy to organise. Keep storage boxes or baskets shallow, this makes toys easily accessible and you won't lose or forget about toys buried deep in the toy boxes. We also like to rotate the toys that come out, kids love variety, and I usually keep an eye on which toys are played with and those that are not so when it comes time to find toys a new home, it's an easy pick.
 "We have a one in, one out policy. If we end up with a gift or a spontaneous purchase of a toy, we give one to the Salvos."
By significantly decreasing the number of toys in your house, you will be helping your children to grow and develop lifelong skills. Who doesn't want that?
The toys we do keep around are carefully selected to encourage creativity, spark their imagination and stimulate their growing minds.
5 Minimalist Wooden "toys" that we love
Organic Bamboo is eco-friendly and is grown in developing countries. Kinderfeets proudly supports a sustainable way of living for many impoverished populations. Their commitment to Mother Nature is at their forefront, and using bamboo is just one way of giving back. 
These Kinderboards are so great. Watch your child's imagination take over once their Kinderboard arrives. It becomes a seesaw, a balance board, a slide, a step stool, a boat, a resting place, a doll bed, a puppet stage, a tunnel and many more opportunities for them to explore. The possibilities are endless! 
These toy construction trucks are made from 100% recycled plastic milk bottles. The trucks are BPA free and free from phthalates and PVC and are packaged in environmentally sensitive packaging materials, printed with soy inks. Plus Green Toys are eco-friendly. 
Wooden pretend food will take the rough and tumble of 'pretend' play with everyday children. PlanToys make some wonderful wooden toys from sustainable rubber and wood that are painted with non-toxic paints and finishes.
You can never have too many puzzles. We love these ones from Plan toys, they use sustainable materials that are safe and eco-friendly. The toys are made with water-based organic dyes that are entirely free of chemicals. Great when you have a teething crawler on the loose. 
Don't get me wrong, we do still have a few plastic toys in our house, but we are educating ourselves daily on ways we can minimise our footprint, create a safe home and gives our kids the best life. Conscious consumption for the win. 
---
1 Response
Leave a comment
Comments will be approved before showing up.